Ola is a 55 year old grandmother of Qatari nationality and Egyptian origin. She is born and raised in Qatar and completed her bachelor's degree in biology from Qatar University. She completed her masters at the University of Texas-Austin in the United States. Ola is the daughter of well renowned Islamic scholar Sheikh Yusuf Al-Qaradawi and her late mother Isaad Abdelgawad Alharam. Ola has no political affiliations.
Hosam is a 58 year old grandfather of Egyptian nationality. He grew up in the US. Following completion of civil engineering at the University of Assiut in Egypt he moved back to the US where he and Ola commenced their graduate degrees at the University of Texas-Austin.
At the end of their studies, Hosam and Ola, with their children, moved back to Egypt where he started his own construction business known for its quality work and integrity. His company continues to operate today without disruption.
Hosam was politically active in Egypt after the 2011 revolution in the Al-Wasat party, a legally registered political party. After the 2013 military coup, just like thousands of political activists were detained, he was arbitrarily detained, never charged, and eventually released by the judicial system in 2016. Since 2013 he has had no political activity.
They have 3 children, Ahmad, Aayah and Toqa, two of which are American nationals and grandparents to 3 grandchildren also of American nationality. Hosam has two siblings who are American.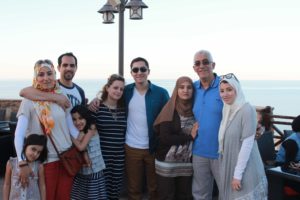 Ola and Hosam's children reside in the United States and both of them are green card holders. 
Ola and Hosam have always been conscientious, moral, and law-abiding citizens who value freedom, liberty and justice.